Is Metal Roofing Right for You?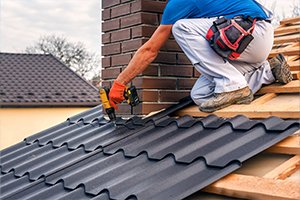 Is metal roofing a viable option for your home? Asphalt shingles are the most common roofing type, but not the only one. Tile, clay, and even wood shake are on roofs in homes across the U.S. Metal is another option and has many benefits. Take a look at the pros and cons to see if it's the right choice for your house.
Pros of Metal Roofing
The most significant benefit of metal roofing is its durability. It's referred to as forever roofing because it lasts so much longer than any other material, up to 60 years for high-end roofs. It stands up to extreme wind and weather, changes in temperature, and even snow and ice. It's also resistant to pests, fungus, mold, and moss. Critters such as raccoons and squirrels can't damage the metal material, and you don't have to worry about them decaying, shrinking, or breaking down. And maybe most important of all, the metal is fire-resistant.
Cons of Metal Roofing
With so many benefits, it's hard to imagine a long list of cons to metal roofing. And guess what? There aren't many cons. The only disadvantage to this type of roofing material is the initial cost. It is more expensive than other roofing materials but it generally works out to be less expensive on a per-year basis because it lasts so long. And it could save you money on your insurance costs because of its longevity and fire-retardant properties.
Are you ready to find out more about this long-lasting, durable, and beautiful roofing material? Contact Premiere Roofing for everything you need to know about metal roofing.